Pinterest has over 320 million active users with about 80% of the US pinners using Pinterest to look for inspiration for purchasing. More than half of those users log into Pinterest with the actual intention of shopping. This makes it 4 times more effective at converting sales than any other social platforms. Given this information, let us walk you through how you can make money on Pinterest without a blog.
Who are the users on Pinterest?
It is interesting to note that 71% of global Pinterest users are made up of female users. If you look at the US alone, the value increases to a remarkable 83% ranging from 24 to 54 years. This bracket makes up for 80% of the buying decisions in households. Around 58% of this group say Pinterest helps them make better purchasing decisions. The majority of these users use Pinterest to plan their life moments, which far out beats Instagram and Facebook.
So what is this group investing money in mostly? According to studies, 70% of these users use it to buy accessories, watches and jewellery, while a staggering 52% of the user spends more than $500 on beauty products in the span 6 months.
According to IPO filing, 52% of all millennials in the US (born between 1983-1998) use the platform monthly. They are also most likely to buy what they pin. Given that Millenials have a tendency to research their product on social platforms before buying, Pinterest is a great way to engage users and turn pins into conversions.
Knowing the type of audience and considering that almost half of Pinners visit the site to shop, it is a great way to make money on Pinterest without using a blog. So how can this be achieved? Keep reading on to find out more.
How to make money on Pinterest
Pinterest isn't solely a platform for sharing photos. It's estimated that almost 90% of the users in the US use Pinterest to help them make a decision before purchasing. As mentioned previously, 47% of those Pinners use Pinterest specifically to shop.
Pinterest is constantly trying to attract users to buy directly from their app. In 2018, Pinterest launched Product Pins. This allowed users to upload full catalogues of items for sale with information such as the price, availability, title, description and direct links to the seller's site.
Along with this, Pinterest also introduced Shop the Look ads. This feature gave the users the ability to tag up to 25 items inside an image. Another cool feature is that business profiles were also given a Shop tab which allowed users to shop directly from their profile.
Now let's take a look at what you need to do to actually profit from these features.
Build an Audience
To build an audience, you need to find your niche. What are you passionate about? Once you find what your niche is, you can decide who your target audience are. It is also important to keep in mind the statistics above that we mentioned. If you are looking at earning money, it won't be very helpful in choosing a niche that is unpopular with Pinterest pinners.
First things first, you need to attract users to follow your board. Once you know your target audience, you need to create boards that are interesting for them. For example, if your passion is baking and you want to sell kitchenware for baking, you could upload photos of your baked goods using the items you intend on selling. If you are still unsure of what to sell, once you have a few thousand followers, marketers will propose ideas and offers. So even if you are a baker, and want to promote your recipes to gain followers, but not exactly sure what to sell, a marketer will most likely approach you with a deal. For example, a business that sells kitchenware may ask you to become their brand ambassador and use only their brand when baking. In turn, you will be making money by helping them sell while still promoting your work.
Pick the popular categories for your niche
Although the majority of users on Pinterest are women, it's been found that in recent years the number of males has doubled. In the image below, you can see which categories are most popular with both genders. It's important to choose the categories that are related to your niche but try to pick the most popular ones chosen. This will increase your chances of being found more.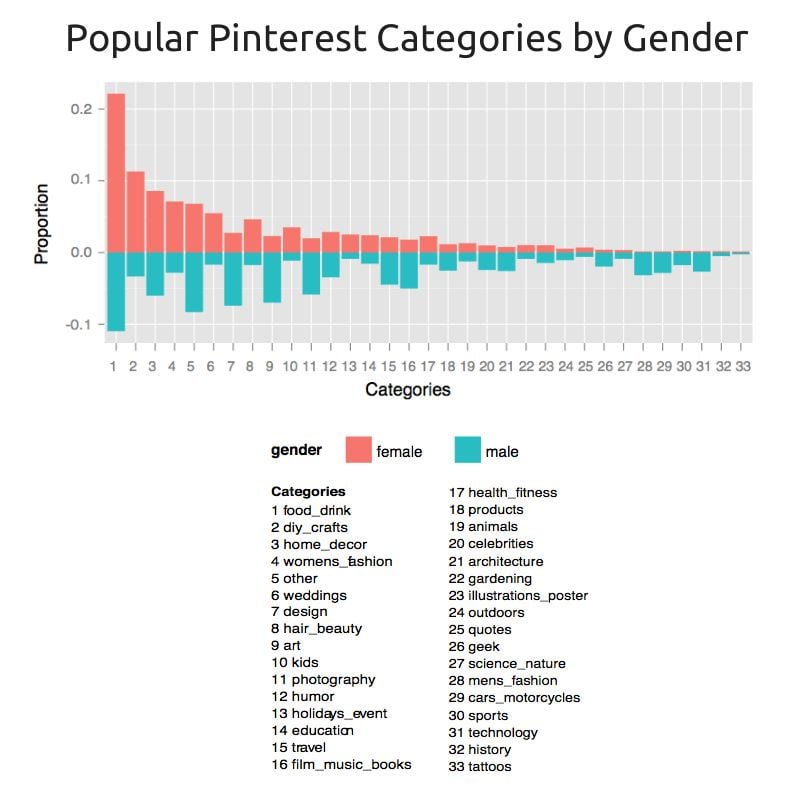 Ask for sponsorship
As mentioned above, once you build your Pinterest following, you can select companies that offer products that interest your audience. So rather than waiting for companies to approach you, you can be on the lookout for companies that can promote your brand and ask for a sponsorship.
To continue with our previous example, if your board consists of a lot of baking recipes, then users who follow you are interested in baking also. Consequently, these users are more likely to purchase any kitchenware related to baking. Companies that have these targeted users at their disposal is always a win for them. Share your Pinterest's account's statistics with their company and offer them a deal. For example, they can use their branding on your account for a year.
Become an Affiliate
Instead of asking companies to sponsor you, you could also opt to become an affiliate. As an affiliate, you will promote their products for a small commission for each successful sale. Try to find companies that sell products that you can promote with your audience. Place the products you want to promote on your boards and use affiliate links.
A good tip is to use Bitly to shorten your affiliate links. By doing this, you will be able to track your pins and boards for the number of clicks.
However, just a warning about doing this. Pinterest from time to time likes to take action against affiliate marketing spammers. So if you find yourself at risk, you should consider linking your pins to your own website, wherein turn you can use your affiliate links there.
Pinterest SEO Techniques
If you want to make money on Pinterest without using a blog, you are going to need some good SEO techniques to help people find your boards and pins. This will not only help you be found on Pinterest but also in search engine results.
Use target keywords
In your profile, you can find an About section where you can write a maximum of 50 words. Use these words intelligently by including the target keywords that you want users to find you with when searching. You can also add keywords inside your image caption, pin title and pin descriptions.
However, be sure to not overuse keywords and appear spammy. The description still needs to be natural, clear and descriptive.
Use high-quality images
As Neil Patel suggests the following guidelines to increase your chances to be repinned. Pinterest is after all a visual search engine. The clearer and more captivating your images are, the better they will attract users. It's also advisable to use a size of 736×1102 pixels for your pins.
Post your pins at specific times and frequently
The best times to pin is dependent highly on your target's audience habits. Read more about this in our Audience Insights section on how to know your users' behaviours. Nevertheless, in general, according to SocialFresh, the ideal times to post are between 2 PM-4 PM EST and evenings 8 PM-1 AM EST. As for the day, according to HubSpot, the best day to post is Saturday.
With regards to frequency of posting, it was found that posting around 5-30 pins a day is ideal. However, do not post these pins in a short time span. Try to spread them across the typical times to post.
A great tip is to create a Secret Board and gather your pins (around 20 or so in the morning) and keep them there until it is the best time to post. Throughout the day, grab the next pin and post to your boards.
Connect with Other social media platforms
Connecting your Twitter and Facebook accounts to your Pinterest business account will help you tap into the followers you already have. It will also help in sharing your content across platforms which increases your chances of new followers from different platforms.
Use Product Pins
Try to add Rich pins instead of regular pins. Rich pins provide more information on the pin such as the most up-to-date price, availability and product descriptions. There are actually four formats – Product pins, recipe pins, article pins and App pins. The one that you will most likely be interested if you want to sell are Product pins.
In Product Pins, you may also be tagged as "Best Seller" if it becomes one of the most bought items or you may be labelled as "Popular" if you are one of the most clicked product pins in a product category on Pinterest.
Shop the Look Pins
With Shop the Look pins you can now add product tags to your pins. Pinners are able to shop the look by tapping on the pin's white dots. With the ability to add up to 25 image tags this is a great way for pinners to find what they are looking for specifically.
Create competitions
Consider creating competitions so that users can engage with your brand. Doing this can be a fast way to attract users to follow and share your boards. Try to create a competition that is related to your niche to make sure you target the right audience. Otherwise, you will end up with a lot of users unfollowing you at a later stage anyway.
Having said that, it is recommended that you adhere to Pinterest's guidelines. Doing this will ensure you respect Pinterest's goal in the end, that boards contain pins that are relevant. A lot of times, competitions can drive people to add pins that are irrelevant to the contest. Try to avoid this if you can.
Repin others' pins
Just like Twitter, Pinterest gives the capability to re-pin someone else's pin as a way of sharing their work. Pinning other pins, especially those in your target audience will increase your chances of being seen and hopefully follow your boards.
Teach Pinterest marketing strategies
Here's a somewhat surprising way of making money with Pinterest. As Pinterest continued to improve, a small industry was introduced with the aim of helping Pinterest users by developing tools.
If you have been successfully using Pinterest and feel you are experienced enough, you may want to contemplate making money by teaching your strategies to others. One suggestion is creating e-books or provide tutorials.
Audience Insights
By creating a Pinterest business account, you have access to analytics using Audience Insights. Pinterest Analytics tools can help you track your performance and build a strong business strategy.
With Pinterest Analytics you can measure several metrics such as pin performance, follower growth and traffic referrals. You can also create social market targets and check if you are meeting the objectives. Pinterest Analytics helps you analyse better your audience, improve your content and develop marketing strategies.
To get access to Pinterest Analytics, go to your profile analytics and click on your Pinterest profile at the top.
Final Thoughts and Recommendations
So there you have it, these are our tips on how to make money on Pinterest without using a blog. With over 40% of US users logging into Pinterest for shopping, this makes it an excellent platform for converting your pins into actual sales. Follow our guidelines, and you could be on your way to gaining Pinterest!
Veteran content writer with focus on Technology and SEO.