SEO Agency tools help agencies measure their client's business' SEO efforts and grow their business with the right tools. Having a robust set of analytics and SEO tools is a fundamental feature for any thriving search marketing campaign. These tools will help agencies enhance their client's business' SEO efforts. But not all tools are created equally. Some tools are better focused on other SEO factors. Moreover, some of these tools even have their own affiliate programs that can help you earn an extra commission.
We will go through which SEO agency tools are best for different SEO factors and affiliate programs.
Google's Own Tools
Firstly, I will talk about Google's own tools which are free to use and give you extensive reports on your client's website. It is a good starting point to get an idea of your client's website health and performance.
Google Search Console
Google Search Console is a set of free tools and reports to help your agency measure your clients' website search traffic and performance. You can also use it to fix any errors on their site and improve their ranking in Google search results.
Google Search Console contains an overview report to get a general idea of how they are performing, their coverage, and their enhancements. When analyzing their performance, you can check how they are performing in queries, pages, in certain countries, in different device types and so on. You can use this data to check which pages are performing best, which pages have a low click-through rate, rate of clicks/impressions per keyword and more. You can also see which pages have errors after being crawled.
Moreover, Google Search Console has a URL inspection tool that allows you to see how Google's crawlers are rendering their pages. If they published a new blog post or updated a page, then you can use URL inspection to submit the URL to send a trigger to Google to crawl their page.
As of 2019, Google also introduced a Discover section to give agencies insights on how users are finding their clients' websites. Moreover, in 2020 Google published the Core Web Vitals report in Google Search Console. Core Web Vitals will show the quality of the user's experience while on their client's site.
Google Analytics
Google Analytics gives you a suite of free tools to analyze and monitor data for your agency to be able to build a good marketing campaign for your client based on real data.
This allows you to understand your clients' website's visitors and analyze their performance in marketing, content, products and more. Utilize this data and get access to Google's insights and machine learning capabilities. Convert the insights into conversions by using Google's an advertising and publisher products.
Basically, Google's Analytics measure 3 metrics:
Acquisition: Where your visitors are coming from.
Behaviour: The flow your users go through when visiting your site from when the user entered to when the user leaves. This could include clicking links, navigating through the menu or clicking on ads.
Conversions: How your business is performing when converting customers into leads and sales.
You can also create custom reports that are specific to the needs of your business. Moreover, you can get a detailed report on your audiences such as demographics, location of your users and devices your users are browsing your site on. All this information is real-time and gives you an idea of your website's health.
Now that you understand how Google's agency tools work, let us look at what SEO functions you need to consider.
Crucial SEO functions for agencies
As an SEO Agency, you must apply a mix of different marketing techniques to have a successful campaign. The aim of SEO agencies is to provide expert search engine optimization services to other business to improve their ranking in search engines and drive more traffic to their website.
You should look at the following SEO techniques:
Keyword Research
Rank Tracking
Link Building
Competitor Analysis
In order to apply these strategies, you need to have a reliable measuring process in place. SEO agencies need to track rankings of multiple client websites frequently and generate reports. Therefore, it's important to use different tools for different SEO techniques.
I will list the best tools to use for the above SEO techniques in the next sections.
Keyword Research
Ahrefs Keyword Explorer
Ahrefs Keyword Explorer is a keyword research tool with the largest database of search queries (approximately 8 billion keywords). Ahrefs can crawl the entire web every continuously storing petabyte of information about live websites. The stored information includes how websites link to each other and which keywords they rank for in search results.
The keyword Explorer retrieves the keyword difficulty score for each search query. This score helps you determine how many backlinks you will need to be able to rank highly in Google and other search engines. The Keyword difficulty known as KD is a score that ranges from 1 to 100, with 1 being the easiest and 100 being the most difficult.
You can expand to more keyword ideas by clicking on 'All Keyword Ideas' on the left-hand column. Keyword ideas can be built from phrase matches, question keywords and autocomplete keywords. You can search for keywords from 228 different countries and 10 different search engines. You are also able to see the estimated number of clicks for any keyword. Moreover, you can see the parent topic of a selected keyword which can help you cluster common keywords together.
Another useful feature is the SERP overview which allows you to see the top-ranking pages for your selected keywords as well as SEO metrics like backlinks, traffic, and domain rating.
Ahrefs offers four different pricing plans:
Lite – $99 per month which allows you to store 5 keyword lists.
Standard – $179 per month, this time you can store up to 20 keyword lists.
Advanced – $399 per month where you have unlimited SERP position history and save up to 100 keyword lists.
Agency (most suited for agencies): $999 per month with unlimited SERP position history and store up to 250 keyword lists.
Keyword Tool
KeywordTool.io is an online keyword research tool that makes use of Google's autocompletion feature to generate a variety of related keyword ideas. Rather than Keyword Difficulty, the score is called Competition and has a range from 1 to 100.
The free version of Keyword Tool can generate up to 750 long tail-keyword suggestions for every query. It boasts a reliability score of 99.99% (unlike other tools) and what is great is it is absolutely free. You do not even need to register for an account.
Keyword Tool allows you to perform keyword research on Google, YouTube, Bing, Amazon, eBay, and app stores in 192 countries. You can retrieve search volume data from over 45 languages. Moreover, Keyword Tool allows you to bulk search up to 70K keywords daily and export the search data for future use.
As you can see from the screenshot, keywords can be categorized into suggestions, questions, or propositions. You can also get important information about their trend, their click-through-rate, and their competition.
If you wish to buy a premium version, pricing starts at $69 per month. You will get 7000 keyword searches per day and their SEO metrics. Currently, the free version only allows a limited number of searches with detailed metrics.
SEMRush Keyword Magic Tool
SEMRush Keyword Magic Tool is a popular keyword research tool and was named the Best Digital Tool at PubCon 2019 Interactive Marketing awards. The Keyword Magic Tool allows you to search keywords in different variations such as questions, broad matches, phrase matches and exact matches. A cool feature SEMRush has is 'Keyword Gap' which is a tool that lets you perform a full keyword analysis with keywords from your competitors.
Finding the competition's hidden works is a great perk to have to minimize keyword research work and get ahead of the game. With SEMRush you can bulk search up to 1000 keywords for search volume data analysis.
SEMRush also contains a feature called Keyword Trend which identifies the trending keywords for your selected category over a year. For each search query, SEMRush generates over 20 million keyword ideas with SEO metrics such as keyword difficulty, search volume and cost per click.
SEMRush has 3 pricing plans:
Pro – $99.95/month with 250 fresh metrics for every searched keyword.
Guru – $199.95/month for 1000 fresh metrics with every searched keyword.
Business – $399.95/month with as many as 5000 fresh metrics for every searched keyword.
Want to reduce your pricing?
Bonus: SEMRush has an affiliate program!
SEMRush lets you earn a commission when users register or activate a trial. All you need to do is advertise using their exclusive SEMRush banners and landing pages.
UberSuggest
Ubersuggest is a tool presented by SEO specialist Neil Patel. It is a user-friendly and cost-effective keyword tool providing most of the features that SEMrush and Ahrefs have, but at a much cheaper price!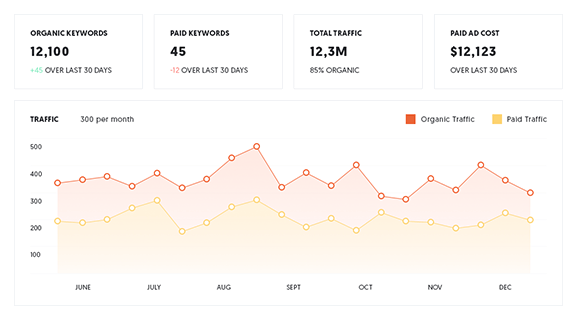 For each searched keyword, Ubersuggest shows a visual of the age range search data. This gives you a good idea of your audience. You can also see the last year's history of any keyword and generate hundreds of suggestions from seed keywords. All search data can be exported for later use.
Ubersuggest provides both the keyword difficulty and the paid difficulty for every search query. The top 100 ranking sites for a particular keyword are listed with their ranking page, total visitors, social shares, and domain authority score. You can also improve your link profile by looking at the backlink data provided and see the exact content in your space that people are backlinking to.
Moreover, Ubersuggest also gives you the top SEO pages report which allows you to see which of your competitor's pages are ranking for trending organic keyword phrases.
Ubersuggest contains three pricing plans:
Individual: $12 per month
Business: $20 per month
Agency: $40 per month
Rank Tracking
ClickFlow
SEO agencies need a tool that can perform redundant tasks of keyword tracking and SEO testing. ClickFlow is useful for that since it contains a suite of SEO tools with a powerful rank tracker to help you boost your organic rankings and direct good traffic.  It works with Google Search Console by extending its functionality to improve click-through rates of pages by testing keyword changes.
This feature makes it very simple to execute A/B SEO tests for specific blog posts on your website. With ClickFlow you can test the effectiveness of changes and optimize your SEO as you go along. Changes can include adding content blocks or H2 tags.
Additionally, ClickFlow displays the impressions, clicks, click-through rate of ranking keywords. Low-competitive keywords are shown to help you improve the success of your client SEO strategy. Two great features are Content Editor and Content Decay which determine which keywords should be added to gain traction and which pages and blog post are causing traffic declines, respectively.
ClickFlow provides three pricing plans:
Starter: $99 per month
Standard: $159 per month
Premium: $449 per month
SE Ranking
SE Ranking has a great rank tracking feature that is ideal for agency owners. Apart from rank tracking, SE Ranking also provides a great SEO suite of tools at a very good price. Moreover, this tool provides a 100% accuracy for data. Their crawlers collect data by mimicking a user's behavior without browsing history for a specific location. The data can be verified by checking the cache copy they store for you.
As well as keyword rankings, you can track SERP features, paid rankings in Google Ads, search volume and a traffic forecast. Keyword rankings are checked across major search engines such as Google, Yahoo, Bing, YouTube and Yandex. Rankings are tracked for both mobile and desktop and you can even check for rankings for specific postal codes for any city.  Moreover, you can track your Google Map rankings for different local SEO campaigns. To speed up your process, rankings can also be cross-checked with up to 5 competitors for every project.
SE Ranking pricing depends on the number of keywords you wish to track and the frequency you want them to be checked. Pricing can range from $31 for 250 keywords and $719 for 20K keywords per month.
Bonus: SE Ranking has an affiliate program!
Get 30% commission for every subscription sale. That is quite a sum of earnings!
Ahrefs Rank Tracker
Ahrefs offers a great rank tracker with advanced features that are well-suited for SEO agencies looking for reports rather than just monitoring. These include daily rank reports or featured snippets ranking report.
You can add about 8,100 keywords to ensure accurate rank tracking. Your ranking progress is also displayed in a visual representation with metrics such as average position, visibility and other SERP features. Ranking keywords can be identified into their ranking positions and their position distribution is determined. You can also opt to receive daily email notifications of your client's project rankings rather than constantly visiting the dashboard.
Ahrefs Rank Tracker has the following price options:
Lite: $99/month with up to 500 keywords ranking
Standard: $179/month with up to 1500 keywords ranking
Advanced: $399/month with up to 5000 keywords ranking
Agency: $999/month with up to 10000 keywords ranking
Link Building
Ahrefs Site Explorer
Ahrefs Site Explorer gives you the ability to find new link possibilities for your link-building team. By using this tool, you can analyze the backlink profile for any domain.
You can use metrics like Domain Rating and URL Rating to help you detect what authority the website or webpage has. You not only see the anchor text of the link but also the text surrounding the anchor. Moreover, Ahrefs allows you to see the first and last seen timestamps from the generated links.
One great feature is the ability to receive email alerts whenever someone links to your competitors' website or mentions your competitors' brand.
Ahrefs have several pricing plans starting from $99 for 10 rows and $999 for 10,000 rows per report.
Moz Link Explorer

Moz is a popular SEO software suite for marketers. Its Link Explorer tool is very handy for monitoring all your clients' link acquisitions and link analysis tasks. Moz has a whopping 40.7 trillion links, and this is what makes it so reliable.
You can see the Domain Authority and Page Authority metrics for every URL. These metrics are essential in deciding a URL's reputation and authority. A great feature in Link Explorer is the spam score metric. You can see the spam score for your client websites – high spam indicating a low-quality domain in most cases. Apart from finding broken links, you can also discover new opportunities for link-building by finding out who is linking to your competitors. You can do this by tracking and monitoring backlinks by comparing your client's website domain with their competitors'.
Moz has the following price packages:
Standard: $99 per month
Medium: $149 per month
Large: $249 per month
Premium: $599 per month
Link Assistant
Link Assistant is an SEO software application supported by both Windows and macOS. It crawls 7.1 billion pages daily to help you to find thousands of relevant backlink opportunities. The relevant link opportunities are searched from 556 different search engines and locations.
With Link Assistant, you can manage various link-building tasks such as guest posting, commenting, reviews, directories, competitions, and link pages. You can also monitor every link you acquire for each of your campaigns.
Link Assistant price varies from $419/month to $699/month.
Bonus: Link Assistant offers a great affiliate program where you can earn up to 33% commission, with an average of $179 per sale.
Competitor Analysis
SEMRush Competitor Analysis Tools
SEMRush Competitor Analysis tool is a must-have for SEO agencies. It gives you the ability to check the organic overview of a competitor's website with metrics such as traffic, cost, major organic keywords, and the top backlinks. You can fine-tune your SEO
strategy by filtering for branded and non-branded traffic.
SEMRush also allows you to compare with five other competitors in a side-by-side comparison to find what particular keywords they are ranking for. Using their link analysis tool, you can also find the top linking domains for any site and also find any recent or lost link opportunities.
Additionally, SEMRush allows you to prepare enhanced and customized competitor analysis reports. This is a must-have for SEO agencies.
SEMRush offers a package of $99.95 for 5 domain comparisons. Remember that SEMRush offers an affiliate program that can turn down your costs.
Ahrefs
Ahrefs allow you to check out the top pages of your client's competitors' domains. These domains are the ones that are generating the most traffic and money. Ahrefs provides a timeline of links acquires by any domain and its SERP history over time. This can give you an idea of how their client's competitors are progressing.
With the batch analysis feature, you can monitor up to 5 competing domains by a number of factors. Some of those factors include Domain Rating, Ahrefs Rank, top referring domains, number of organic keyword rankings and more. Ahrefs provides a lot of in-depth information with advanced filters to help you get a detailed analysis of their competitors.
Price starts from $99 a month for 100 searches. If you require more than 100 competitors, then you can choose the higher-tier plans starting from $179.
Conclusion
Having the right SEO tool is crucial for your SEO agency to monitor, analyze and create in-depth reports for your clients. These SEO agency tools offer different pricing packages that are suited for SEO agency companies. Use one or more of these tools to get the most out of the different SEO strategies. Affiliate programs can help you reduce the expenses that these tools cost as well as allowing you to promote related material.