We will show you how to add ads easily between posts using Blogger. Blogger is a free hosting service platform that allows content writers to post blogs easily. Read more to check out our latest quick start guide.
Advertising on your blog can give you monetization opportunities with services such as Google AdSense or you may even sell ad space privately to advertisers. Moreover, Ads can help you understand better what your customers are looking for.
How to show Ads between your posts
Here is a simple step by step process of how to show Ads between your posts in Blogger:
Sign in to your Blogger account.
Navigate to the top-left corner, and select the blog in which you would like to show ads in.
Find the menu on the left-hand side, click on the Layout option.
Depending on the current template selected:

In "Blog Posts", expand "Page Body" option and click Edit.
In "Blog Posts", expand the "Main" option and click Edit.

Tick the checkbox next to "Show Ads Between Posts".
Next, choose the ad format, colours, and the frequency at which you want the ads to be displayed.
Finally, click Save.
To save the arrangement, click on Save in the bottom right corner.
Situations where AdSense should or should not be used
Google AdSense is one of the oldest ways of rich media advertising programs on the web. It is considered as one of the top methods to earn money from your blog or website. However, despite that it is great, it is not always wise to use AdSense for monetization.
In the past, every blogger would make use of AdSense to monetize their brand. Even at present, it is still the simplest and least stressful ways of earning money for your blog or website. However, using AdSense will finally not result in a significant increase of revenue.
Moreover, if your aim is to build your brand or promote your business, using Google AdSense may utterly hinder you from building opportunities. Firstly, AdSense ads have a habit of making your website look cheap. Secondly, they add no additional value to your website or blog. Due to this, you may be seeing a higher bounce rate of visitors that could have had the potential to become leads or sales for your business. Not to mention that clicking on the Ad itself will stray your visitors away from your website.
However, we do not wish to imply that AdSense should never be used. On the contrary, if you have a micro-niche website and blog then AdSense is a good option for you. Ideally, they should generate a good amount of traffic before you apply AdSense. However, e-commerce websites, personal brand blogs or freelance websites are not suited for it.
There are many alternatives you can use instead of AdSense that may be more beneficial for your business. All of these provide different ways to monetize – some even using AI techniques to create related Ads for your users. Some examples include Media.Net, PropellerAds, Amazon Native shopping ads and more.
Why should you use Blogger to blog?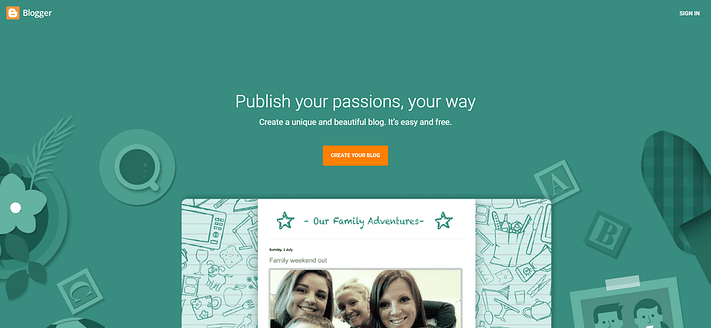 What is Blogger and how can you start a blog?
Blogger is a platform for content writers to write blogs. It is simple to set up and it is free to use. All you need is a Google account, and you can create a new blog immediately after signing up.
You can choose from various themes to design your blog's layout and look. You can add a title and choose a custom URL (that will require you to pay for a custom domain).
Blogger also provides a simple dashboard where you can create posts, add pages to your blog and reply to comments. You can also perform basic operations related to your blog which will be updated live.
Why use Blogger vs other CMS?
Blogger is very easy to get up and running allowing you to create a blog in a matter of minutes.
You can easily learn how to create content and use all the features without any trouble.
You do not need a hosting plan. You can make it a 100% free solution.
You can personalize your blog (limited option)
Please note that Blogger is great for a fast setup and free service for blogs, but it's limited in its customization options. If you are looking for more advanced features, you should opt for different CMS such as WordPress.
How to set up a blog that generates income
If you are looking to set up a blog and earn revenue as a blogger, it will be a long road ahead. Yes, it is a difficult process and unfortunately, there are no shortcuts.
However, when it is done right, it can be worth the work. In fact, those who start blogs and continue to push ahead, and are able to make an enormous amount of income over time. So bear with me, and let us go through the steps of what you need to do to start a blog:
Find your Niche
This is the most crucial step. You need to decide what you want to write about. Your niche can be anything you want it to be. However, there are certain niches that may bring you more fruition.
For instance, if you choose a niche that is not widely popular, you need to be prepared for a smaller audience. On the other hand, if your niche is very popular, be prepared to compete with the rest of the bloggers. However, it is ideal to appeal to a large audience as there is more potential for traffic.
Try to consider taking a broader approach if your niche is very specific. As an example, Forbes.com suggests that if you want to write about resume writing skills, you should take a wider approach and consider using it in terms of larger businesses or employment skills and information.
Find a good domain name
We recommend you stick with the dot-com extensions. They are high in demand but if you do not use them, you risk not getting the same global awareness and appeal as you would with a .com domain name.
A good idea if you cannot find your domain through a regular search, is to use GoDaddy Auctions or other domain auctioneers.
Moreover, try to make the domain name as short as you can. Don't exceed 3 words. Ideally, you should stop at 2 words. To be specific, the best domain name would be shorter than 15 characters since Google dislikes anything above that range.
Importantly, avoid using hyphens as much as you can as they may be a sign of spam. Lastly, try to use a keyword in your niche within the domain name.
Setup Google Analytics
Once your blog is up and running, it is crucial that you set up an analytics metric system. Google Analytics is a great option and very simple to set up on most CMS systems.
With Google Analytics you can measure and analyze your post traffic, reader engagements, and conversion rates. It helps you understand what is working and what is not by measuring the performance based on your data.
You need to create an Analytics account and then you can use an Analytics plugin or make use of the Google's Tag Manager plugin to configure your account with your CMS.
Use your targeted keywords in the content
You need to write content that is driven by keywords from your niche. You also need to do this frequently. You may choose to create a schedule for writing. In the beginning, try to write as much as you can and share as much as you can. Do remember, however, not to sacrifice quantity over quality. Make sure that your posts are relevant to your keywords but still enjoyed by your target audience.
It is important to keep your visitors engaged by creating content that is interesting and appealing. Remember, that Google considers metrics such as the average time spent reading your content, average session time, bounce rate and scroll rate. These factors can really affect your ranking in Google's SERP results.
Build a Value Ladder and a Sales Funnel
These terms may be new to you. To understand what I mean about this, let me explain in detail by showing you what needs to be done.
Firstly, you will need to create an email marketing system. There are a lot of plugins and programs that help you send out emails easily. Such examples include Aweber, Get Response, Mail Chimp and more.
Next, all you need to is to select one of these and use it for your email marketing and integrate it into your blogs. Then you need to brainstorm a free offer you can give in exchange for the email sent.
In order to build a large subscription of users, you need to offer something in return. Otherwise, users will not be so easily persuaded to subscribe. Without a large subscription, you cannot make a respectable income.
You need to up with a free offer, you need to create a value ladder. A value ladder is what you will sell once the user subscribes to the free offer. If you are serious about making revenue from your blogs, you would need to create your own digital products. Decide on the values you want to build your ladder. Each step will cost more, hence the word ladder. Your sales funnel is each step the user takes to becoming your customer. In the end, your sales funnel will become a way to market all this automatically giving you a passive income.
Repeat the process
If you accept the fact that the process will take time and that your income will eventually come, then you will succeed over time. Blogging can be an enjoyable process if you are passionate about what you write.
Having said that, the process needs to keep repeating. You need to keep writing great content for people to eventually notice you. Obtain a social presence and share as much as you can. Remember to write content as keyword-focused as possible and keep following an SEO strategy that will keep you ahead of the game. Learn from your audience by using analytics so that you can understand what needs to be changed to get better engagement.
Conclusion
So, as you can see it is very easy to get started and write a blog. Blogger is a very easy free service that enables you to quickly set up a blogging website in minutes. Practically anyone can create a blog.
However, when it comes to gaining traction and earning an income, it is another story. Google AdSense can help you put you on track to earning some money from your visitors. However, it should not be the first thing to consider.
It is important to understand that earning income from blogs is a long process and you need to follow certain steps before. Google AdSense should be used once you have a good amount of traffic driving through your website. If you are trying to build brand awareness, it is better if you go through the steps mentioned above to set up a blog that creates income. Remember that it takes patience and hard work, but the result will be worth it.
How to add Ads between posts In Blogger – FAQ
We have added the most commonly asked questions related to Blogging and making an income. Feel free to go through them:
– How do you start a blog for free?
You can use Blogger to start a blog for free. Register for a new account using Google. You can start blogging almost immediately. Choose different themes to customize your blogs to your liking.
– How bloggers get paid?
The most common way for bloggers to get paid is by ad networks such as Google AdSense, Media.net, Amazon etc. These networks all work on CPC (cost per click) or CPM (cost per impression).
– How do bloggers get advertisers?
Add relatable ads in your blogs using ad networks such as Google AdSense
Become an affiliate marketer
Sell eBooks to your readers
Create and sell online courses
Start a consulting business
Offer a paid membership plan for premium reads
– What type of blogs make the most money?
Here is a list of the most common type of blogs that tend to make the most money:
Food + recipes blogs
Parenting blog
Health + Fitness
Lifestyle
Budget + financial saving
Home decor
Newborn
Beauty and fashion
Veteran content writer with focus on Technology and SEO.