Have you ever wondered how much traffic you need on a website to monetize? There is no ideal amount of traffic that a website should have before it can start making money but there are some best practices you can apply. There are various monetization models you can use such as contextual or direct advertising, affiliate marketing, promotion of services and much more. You can also choose a combination of these monetization models. Depending on the monetization models you choose, your strategy will be different.
In our latest article, we talk about how to identify your target users to generate more traffic and the different monetization models you can use to create a monetization strategy that suits you best.
Targeting is Key
The more traffic you generate through your website, the more you increase your potential of making money for your business or brand. Yet, the dim reality is that most websites only have around 1-3% conversion rates from their website traffic.
This may vary if your site content is specific to a particularly niched audience – the simple reason for this is that the more interest a visitor has in your chosen niche, the more likely they will make a purchase or subscribe to your content. This is called Targeting. Typically, if your website is optimized well enough to have content that deeply interests the people that land on your site, then your conversion rates could be higher.
A good example of targeting is in guest posting other blogs. For instance, if you write about resistance band workouts on the guest post and your site is about fitness, you will find that visitors from that blog are more likely to subscribe to yours. These are perceived as 'well targeted' visitors. On the contrary, if your site is about gardening, then they will be unlikely to be interested in your site.
So how can you identify which is your target audience? We present you with various tips that can help you in doing this:
Identify your current customers
To understand your target audience, you first need to look at your current customers. It is necessary to look at the aspects of your best existing customers and place them into different profiles based on shared traits. Some examples of good metrics include recency, frequency and monetary. Basically, look out for customers that give you the most profit, the ones that are loyal and recent customers. Knowing which customers give you the best opportunities will help you build your future clientele.
Distinguish which customers would benefit from your features
Start by looking through all the features and qualities you offer, and analyse who can benefit from these features. These may vary from having a special widget that helps ease the retrieval of information, to having specialist expertise in a niche area.
For example, if your site is about traveling then budget travelers would value an impartial blog with honest advice about offers and tips. On the other hand, if you are selling a service or product, you need to identify who your ideal clients are – their profession or hobby, gender, age, income and more. For instance, if you are selling books for children, then your target audience might be parents ranging from ages 25-40.
Gather demographic data on your target audience
In order to segment your campaigns effectively, you need to create a demographic profile. A demographic profile will give your website insight into users that will engage and be interested in your content and those that will not. In fact, it is even more helpful to go beyond just demographics, and try to study their behaviour. To be effective, you need to understand the signs that make some audience stand out from others.
Use Customer Surveys for feedback
Customer surveys are a great way to identify which customers are most likely to convert. Surveys can give insights into what content, product or service your target audience is looking for in your website. Google Forms is a good starting place to create surveys. You can then link them with Audience data from your analytics tools.
You can try to identify trends from the customer survey feedback. Such trends include certain demographics such as gender, age group or niche that align with your content.
If you would rather not use customer surveys, you can also use forums like Quora or Reddit and seek out people asking questions related to your niche.
Research your competitors
Think of it as a shortcut to identifying your target audience. By looking at your competitors, you can immediately know what kind of people are attuned to their content. If their content, product and/or services are similar to yours, then they already understand your audience well.
Taking a look at their social media platforms is a great idea to pinpoint the type of people that frequently engage with their posts. You can also identify which type of posts get the most response. With blogs, you can see what types of article they post most often.
By using this research from your competitors and comparing it to your current customer, you can help widen your audience even further. Most likely there may be certain aspects you had overlooked previously.
Now that we have an understanding of how you can drive the right traffic to your website, let's look at how we can use that traffic to monetize a website.
Ways on How to Monetize a Website
According to a recent survey, full-time bloggers can generate an income of over $50K a year. If you work hard and invest time in writing and marketing, you can make good earnings.
There are different ways to monetize your website. However, these models are all based on the assumption that you already have traffic driven to your website. You will not see immediate earnings in the beginning, but as time goes by, you will notice an improvement once your traffic increases.
Here are 10 monetization models that you can use to monetize your website:
1. Pay Per Click Advertising
Pay Per Click (PPC) advertising model is a technique for website owners to earn passive income from readers clicking on ad banners. The most common way of doing it is through Google AdSense.
Google AdSense is one of the simplest methods of earning extra money as it does not involve a lot of work. The website owner just needs to place ads on the blog or website. You can also apply to be an AdSense partner even if you have multiple websites.
Apart from this, Google offers extensive support for setting up and users are provided with customer forums and tutorials.
You will earn around 68% of the revenue on AdSense for content and 51% on Adsense for search ads.
The following steps show how to monetize a website using Google AdSense:
Firstly, it is important to read Terms and Conditions to make sure your website meets their criteria.
Next, sign up for AdSense and wait for the approval.
Once your account is approved, navigate to the Appearance and just embed the Javascript code into a widget.
You can then choose to place the widgets anywhere on your website.
2. Selling Ad Space
This method is a little bit more time consuming, but you will earn more than you will get from showing advertisements. Selling Ad Space on your website means showing ad links at the bottom of a page, side banners or small pop-ups. The pricing for each Ad link can differ meaning you have more control over your earnings.
One thing you need to factor in is that for this method to work, you need to have a good conversion rate. This method makes use of pay-per-click or pay-per-visitor model and so your form of payment will be dependent on the number of people that click.
You can let your advisers know you are selling ad space by:
Creating a media kit which is a review of your statistics and key points of your website.
Sending to your possible advertisers and promote your work. You can find advertisers using Google Ads, LinkedIn or SellerCrowd for example.
You can then manage your group of advertisers using Google Ad Manager and Google Analytics.
3. Affiliate Marketing
Another good way to earn passive income is to review or promote products. This is called affiliate marketing. By using affiliate links, you can earn a commission when readers buy the products or services you are affiliated with.
If you have a large following that is active, affiliate marketing may be the easiest option. This is especially so if your following is engaging and values your opinion.
To monetize your website using affiliate market, apply the following:
Create a website with a focus on recommendations and promotion of products or services OR post an item or review services in relation to your content.
Follow affiliate programs such as Hostinger and Amazon or search Affiliate networks like ShareASale and CJ Affiliate.
Insert affiliate links in your content organically.
4. Monetization by Donations
If your content contributes to your readers and you need assistance to grow your website, then you can ask for donations. With enough readers, you might earn enough to keep your website running. You can set up donation buttons on your site to give the possibility for readers to donate directly. You can choose safe payment options such as PayPal, Stripe, or Fundly. These can easily be added using widgets and placed anywhere on the site.
5. Marketing your Products and Services
You can market your own products and services through your website. It has never been a better time to open an online shop. The pandemic has hastened the shift towards a more digital world, and this has brought on more use of online shopping as an alternative.
The process is a little more complicated than building a regular website. However, it can be done easily within a few days. Here are the steps you need to follow in order to market your products and services successfully:
Choose a niche that you want to market.
Choose a domain main and web hosting.
Install WordPress
Set up an eCommerce platform such as WooCommerce.
WooCommerce provides themes and customizations to make your shop unique to you.
Add your products by clicking on Products, and then Add New from the sidebar.
Commence your marketing and start selling!
6. Sponsored Content
With sponsored content, companies pay you to write content about their company and publish it on your site. Sponsored content usually includes product or sales announcements, promotions, infographics, or in-depth reviews.
Before taking this model into consideration, it is advisable to make sure you have certain criteria that you match. For instance, you need to see how much online presence you have and your brand value. If your following is large, then you can charge more. BuzzFeed can charge around $100K a piece due to having high influence and brand value. Other things you need to consider is how many sponsored posts you will be willing to write monthly and how much time you spend on it. It is also recommended that you to be transparent with readers that you are creating a sponsor.
Here are some tips for monetizing via sponsored posts:
Look into smaller brands and companies at first.
Build a portfolio.
Partner with marketing agencies.
Look for sponsorships such as PayPerPost and Tomoson.
7. Selling your Website
This term is often called Flipping Your Website. It involves selling your website. It can prove to be profitable but it all depends on the type of site you run.
To be able to tell if your website will sell for a good price, you need to consider the following:
The quantity of traffic it drives
How much gain it makes
Whether the revenue is consistent
If there are continuous growths
8. Membership Websites
This is an upgrade to the donation's monetization model. In this case, you will be asking for a fee to readers to access premium content.
If you are confident that the content you provide is worth paying for, you can attempt to use this model.
You can monetize your content either through a subscription or transaction. With subscriptions, readers will pay monthly or annually to access all the content and its benefits. Transaction based means that readers will pay for individual content such as tutorial videos or training programs. There is also another way to monetize your content by metering it. This means you will provide your readers with content up to a certain limit. If they want to continue reading on, they will need to pay.
There are many plugins you can use in your WordPress sites such as Membership & Content Restrictions and WP-Members.
9. Coupons
Coupons are a form of affiliate marketing. When clicking the affiliate link, the user is offered a discount when making the purchase. As a result, you get a commission from the company you partnered with for every coupon affiliate link used.
Using coupons in your affiliate links provides a means to generate more traffic. To be able to retrieve coupons you need to partner with an affiliate program or partner. Then all you need to do is include these coupons as affiliate links on your website. Another option is to contact your local retailers to see if you can promote any deals on your website.
10. Set up a digital course/training website
If you have skills and expertise in certain areas and wish to share your knowledge, you can provide digital online courses as a form of monetization.
Digital courses can be in a form of a simple PDF download, recorded audio, or videos. Such an example is FlowKey which offers step-by-step tutorial videos on how to play the piano.
All you need to do is create a regular website or integrate an existing website with your course and upload and promote your content.
How To Track Traffic
Stabilising that traffic is the way to monetize your website, you need a way of knowing how much traffic your site is receiving.
You can use Google Analytics to accomplish this task. By integrating your site with Google Analytics, you can set up data metrics that help you measure your traffic easily.
Start by logging into your Google Analytics account.
Navigate to Acquisition > All Traffic > Channels.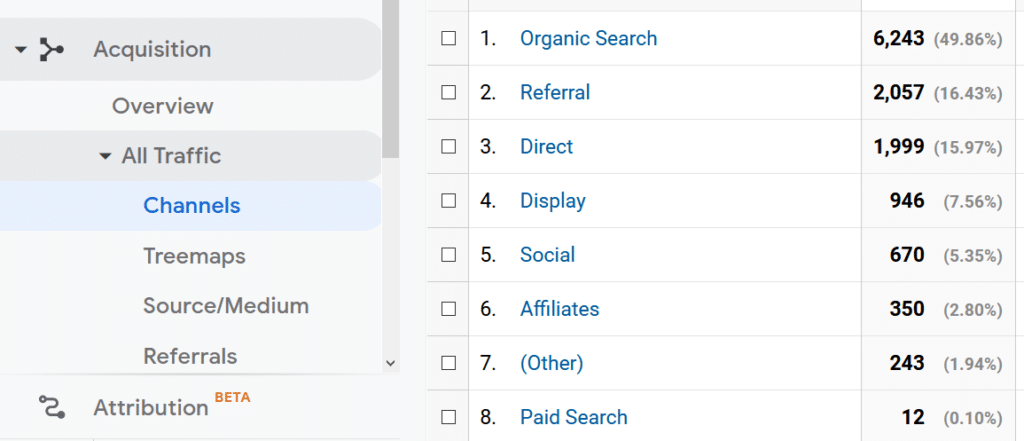 Source: www.monsterinsights.com – An Insight of which channels generate the best traffic
In the Google Analytics web traffic report, you can determine which channels are driving the most traffic to your website. In the example above, the organic search (results from search engines) brings in the most visitors.
You can also view more details by selecting the 'Source/Medium' option under 'All Traffic'. This will pinpoint the exact source of your traffic for a specific channel. For instance, for organic search, it will also show which search engine generated the highest traffic.
This tool will help you track your progress – especially if you see a drop in traffic, you can easily analyze the problem. You can discover which pages are doing well and ones that need optimizing. Your goal is to always try and drive more traffic to your website.
How to track traffic for specific pages
If you want to see how your specific pages are performing with regards to traffic, you can also use Google Analytics.
Log into your Google Analytics account
Navigate to Behaviour > Site Content
Select which traffic source you want to see: all website pages, landing pages or exit pages. In our case, we will use Landing Pages.
Next, use Secondary Dimension and look for Source/Medium (under Acquisition)
You should see a list of your website's landing pages alongside your traffic. You will also see where visitors were previously clicking on your website and how your visitors arrived at your website (such as mobile or tablet).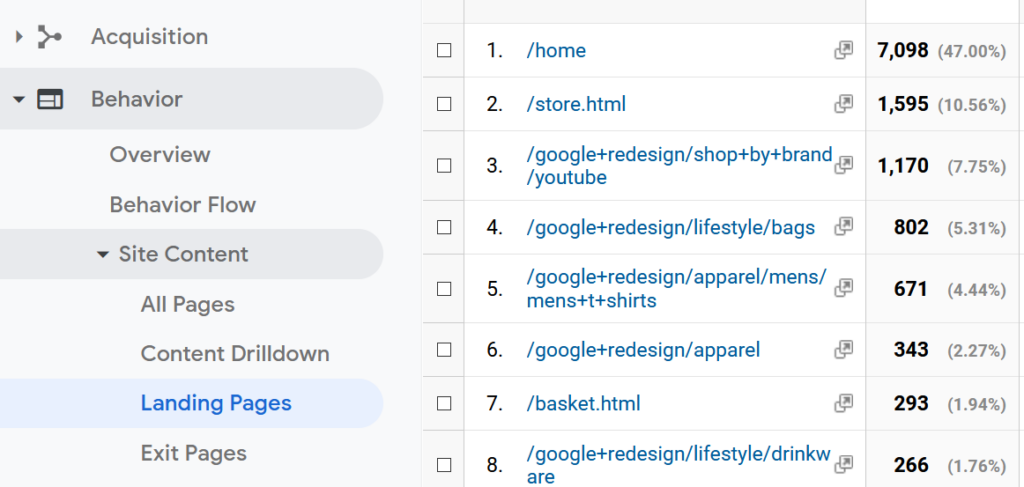 Source: www.monsterinsights.com – Traffic percentages earned for landing pages in Google Analytics
How To Track Website Income
Once you accumulate money from your website, it is important to understand where it is coming from. This will help your business grow and keep consistently improving traffic. Using Google Analytics you can determine where your leads and revenue are coming from and understand what's giving you the best ROI. You can also check which pages are inefficient and remove them or optimize them.
Here are 5 ways you can use Google Analytics to track your website income:
Track income from e-commercial transactions
If your website sells a product or service, you will need to track it to see how it is performing. The best way to do this is by adding custom embedded code into your shopping cart. This will determine which products on your page are leading to the most conversions, the method at which people fall on these pages, and which of these products give you the highest ROI.
To do this, you need to do apply the following steps:
Log into your Google Analytics account
In the main page profile, find the 'E-Commerce set-up' radio button.
Toggle it from Off to On.
Next step is to add a customized tracking code to your shopping cart system. This will report how and when purchases are taking place. As mentioned previously, use WooCommerce module if you are using WordPress.
Track income from non-e-commercial sites
If you do not sell any product or service, and you use your page to generate leads then every visitor has a monetary value. The income you generate from the time and effort you invest in advertising your website should increase over time. This should be the goal you set for your website. To keep track of these goals you can add them into Google Analytics.
Here is a step by step process:
Log into your Google Analytics account
Navigate to Conversions > Goals
Create a new Event Goal
To know how much each visitor is worth, you can divide the amount of money you have earned by the amount of new unique visitors. However, if you want to delve deeper into understanding your sales funnel, you need to create event goals to track more specific data.
For instance, let's say you produce leads using free white paper on your site. Suppose you determined that the average visitor value who visits your site this way is worth $20. If you create an Event Goal you can keep track of how your potential leads move through your site. This will allow you to build a better site structure for higher conversion rates.
Integrate Analytics with AdWords and AdSense
Integrating your Google Analytics account to your AdWords or AdSense can give you insights into the usefulness of your PPC campaigns.
Integration with AdWords
AdWords can tell you which keywords lead to conversions and the behaviour of users once they land on your site. Here are the steps you need to take to integrate AdWords:
Log into both your Analytics and AdWords accounts
In AdWords, navigate to 'Reporting' > 'Google Analytics'
Next, choose 'I already have a Google Analytics account'
Select the appropriate account from the list
See some of the best recommendations on which options to select.
Integration with AdSense
AdSense on the other hand can determine your earnings based on user visits. With AdSense, if you are blogging, you can keep track of which topics attract most users, determine if the length of blogs affects conversions or which posts are the best potential ad candidates. This information will help you open more channels for added revenue or see which of these pages already help you convert.
Another good thing about AdSense is that you can see an extensive overview of your click data based on user location, browser type and referral. It is also capable of identifying locations which give you the best ROI.
To be able to integrate Analytics with AdSense, you will need to have an invite link. This can be found in the Overview or Advanced Reports page of your AdSense Account.
Conclusion
It is essential to generate traffic to your website so you begin to monetize your website. Moreover, you also need to make sure that the people who land on your site are your intended target audience. Using the tips we provided you above, will help you target the right users for you.
When your website starts seeing traffic from your target audience, you should start thinking of using different monetization models. Each monetization model provides different benefits for your business model.
Lastly, once your monetization models are in place, you need a way to keep track of your traffic and income. This will help you to keep track of your progress and optimize where needed.
We hope that this guide will help you and encourage you to monetize your website. Do no be discouraged in the initial phase. You will not see results immediately but if you power through the first phase, build up your target audience and publish new content regularly  – you have a particularly good chance of succeeding.
Veteran content writer with focus on Technology and SEO.