Twitch has released a new feature called Channel Points. It gives streamers and viewers alike the possibility to create an engaging community. Viewers can earn points and receive rewards from the streamers' Channel Points. We will show you how to set up your Twitch Channel Points and start reaping the benefits.
What Are Twitch Channel Points?
Twitch Channel Points is a customizable points program that allows streamers to reward members of their community with benefits usually reserved for subscribers. It's also available to all partners and affiliates.
The rewards are automated or customized by the streamers. Some custom examples include choosing the next channel they host or setting the background music or something peculiar such as making streamers dance live.
For Viewers, Channel points are a way to reward you for supporting the community. Such rewards can vary from watching a particular channel from joining a raid. The points that are given are dependent on the channel at hand. The points are accumulated automatically from when you log in and start watching. The more support viewers give, the more they will earn points.
Essentially, Twitch channel points is a way of creating an engaging community by giving incentives to both streamers and viewers.
What are the benefits of using Twitch Channel points?
Channels with a large number of viewers were seen to have a large increase in the viewer activity. Specifically, 18% increase in the duration spent by the viewers on their channel and a 13% improvement in chat participation between the viewers.
Twitch also found that channels that personalised their Channel Points saw better participation from their viewers.
How to earn and use Channel Points as a Viewer
Channel points are unique for each channel and can be earned in different forms such as Watching, Following and participating in Raids. Performing any of these actions and more on an eligible channel will reward you with Channel points for that channel.
Your Channel points can be viewed at the bottom of the chat window in enrolled channels.
So how can you earn Channel points?
If you watch enrolled channels, you will earn Channel points periodically. Moreover, at certain intervals, you will also receive click-to-claim notifications as they call it. These will appear at the bottom of your chat windows. These are considered as bonuses as they will earn you extra points.
It's easy to retrieve the bonus. All you need to do is click the notification and your Channel point balance will be updated immediately. Following, Watching and participating in a Raid will automatically add your points to your account.
However, if you watch their broadcasts continuously, you will earn a streak called 'Keep up a Watch Streak'. You will receive further points for each video you watch consecutively. For example, watching two streams in a row will earn you 300 points while watching more than 5 in a row will increase your points up to 450. So be sure not to miss a broadcast or the Watch Streak will be stopped. A good tip is to keep abreast with the creator's schedule.
Here are the current point scheme for Channel points via certain actions. These rates may change by time.
How to use your points
To use your Channel points, you need to start by clicking the Channel Point icon at the bottom left corner of the chat window. Once clicked, a window will be shown with the rewards options for that channel along with the amount of Channel points required to redeem the award.
After selecting the reward you want, follow the instructions provided.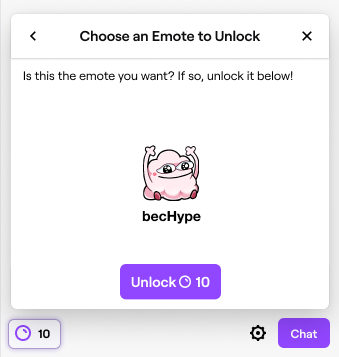 After you've finished all of the required actions for the chosen reward, you will need to confirm that you wish to redeem the reward. To continue, just click the purple Unlock button. The button will show you how many points will be used.
After unlocking, you should see the following message:
Setup guide for Channel Points as a streamer
As a streamer, you can enable Channel points from the Creator Dashboard. Nevertheless, if you do not wish to enable this, you can disable at any time by toggling the 'Enable Channel Points' option. Once this is set up, your viewers will be able to earn and redeem points automatically.
Rewards
Rewards can be customized in the Manage Rewards section under Channel points in the Creator Dashboard. You can add custom rewards, alter default rewards and disable or enable any rewards you have added.
Default rewards
When creating the Channel Points the first time, Twitch will enable some rewards by default. You can find the default rewards given here:
Unlock a sub emote randomly
Pick an emote to unlock  (24 hours)
Highlight a message via chat (one time only)
Send a message using the sub-only mode (one time only)
Customize an emote (24 hours)
Twitch calculate the reward points using their Smart Cost system. They take care of adjusting them according to your channel size and your award redemption rate. Nevertheless, you can edit these points and disable Smart Cost.
Custom rewards
As a streamer, you can create a custom reward that you need to fulfil yourself. For example, you need to perform actions such as giving a redeemer a shoutout and allowing them to join your next game stream. Or maybe even allowing a viewer to choose who the next host will be. Custom rewards can also be set to have limits giving you control over how many viewers can claim rewards. For full details on what can be offered, see Points Acceptable Use Policy.
You can easily add Custom rewards by locating Manage Rewards section under Channel Points in the Creator Dashboard. All you need to do is select the option Add New Custom Reward.
Here is an example of adding a custom reward:
Here are some tips on different custom rewards from LearnHowToStream that you can use that have been applied in Twitch that could get you started in the right direction:
Request a song
Perform a dance or endure a set of pushups
Eat something weird
Perform a one versus one with the viewer or join a squad
Waste an Ultimate
Unlock VIP
Ask questions
Give Timeout to another viewer
Moreover, each of these rewards will have different points depending on how tough it is to achieve.
Additionally, for a full list of rewards, visit here.
Final thoughts and considerations
We hope you enjoyed our guide on what Twitch Channel points are and how to earn them.  Feel free to share any more ideas you have for custom rewards in the comments section.
Veteran content writer with focus on Technology and SEO.