Backlink quality is one of the top-ranking factors in Google. Generally speaking, the more quality links from authoritative websites the more of an edge you have over your competition. However, certain links can do more harm than good. Quality is always more important than quantity. Therefore, it is important to analyze the quality of your backlink profile to improve your SEO rankings.
Google Search Console is a free tool to help webmasters monitor their website's health in the search index. One particularly useful feature is monitoring backlinks to optimize your website's performance. By monitoring your backlinks, you can check which of your backlinks are still helping your authority and which of them need to be disavowed.
I will be showing you how to use Google Search Console to understand who is linking you, remove unwanted backlinks, and improve your link Authority. I will also show you how to disavow unwanted backlinks.
Here are some of the topics we will go through:
How to Find Who Links to Your Website
There are two ways that I will mention that will help you find who is linking to your website.
Google Search Console
Google Search Console is a great starting point as its a free tool. All you need is to create an account and you are ready to go.
Top Linking Sites
To be able to see which links are being used to your website,
Go to Search Console
Select your property > Links > External Links
Click on Top Linking Sites.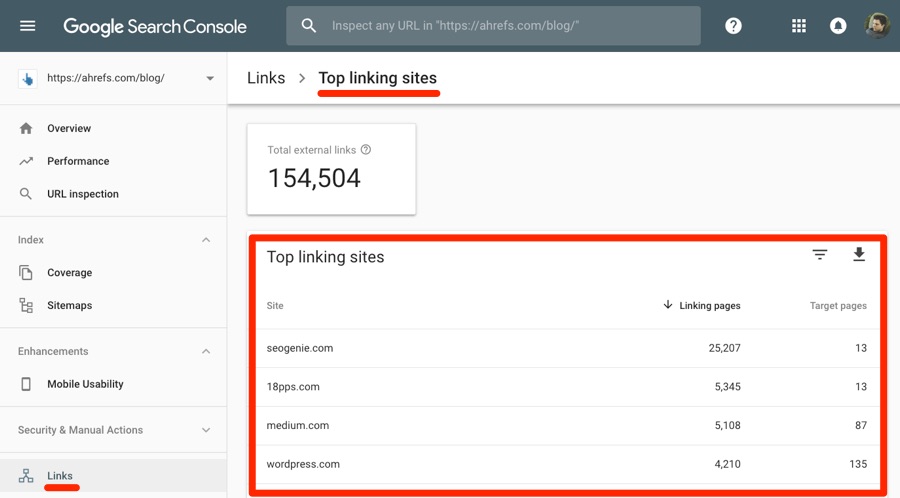 Source: Ahrefs.com Analyzing your top linking sites
In the report, you can see the top 1000 websites linking your site. Each site also contains information for the number of linking and target pages. Linking Pages – tells you how many of their pages are linking to your website and Target Pages – lets you know the number of web pages they are linking to.
You can also click on each individual web page to see which they link and the number of times they linked.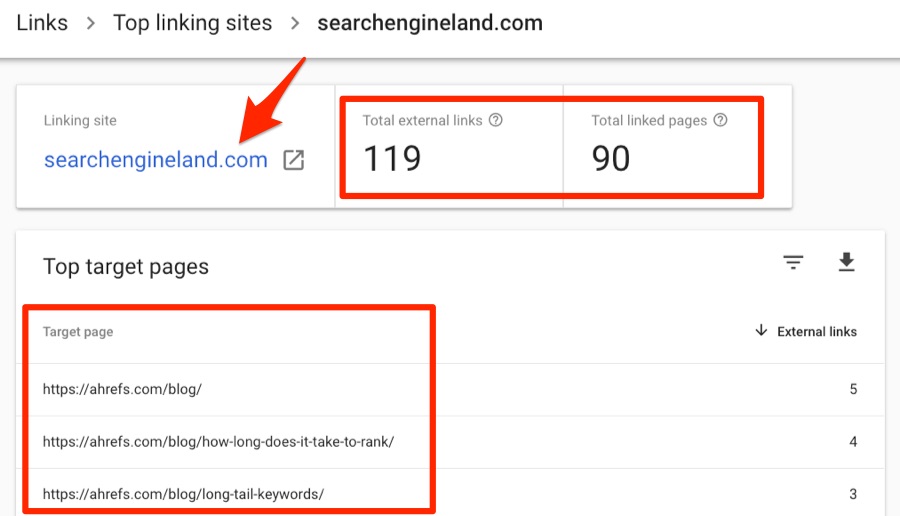 Source: Ahrefs.com Analysing the top linking sites in individual detail
External Top Linked Pages
You can also look at your external Top Linked pages,
Go to Search Console
Select your property
Links > External Links
Go to Top Linked Pages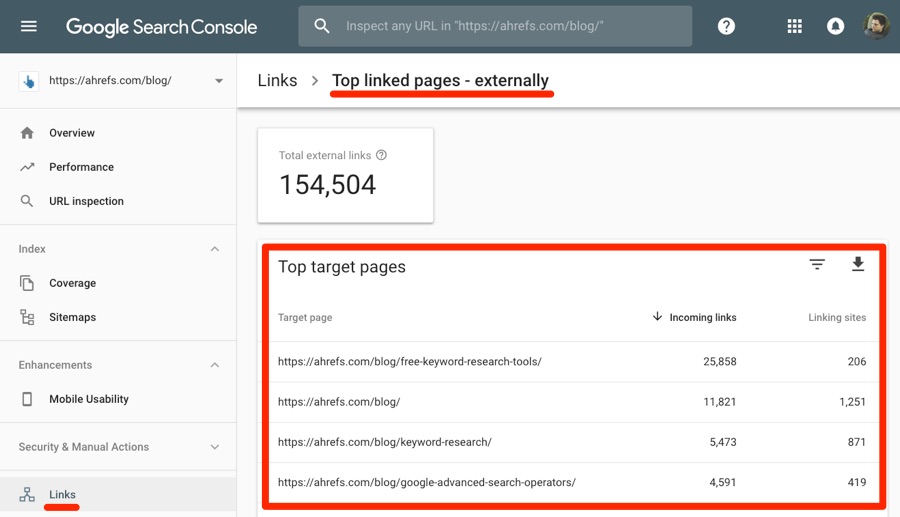 Source: Ahrefs.com Monitoring the Top linked pages externally
Incoming links show you which pages have the highest number of backlinks. By default, the top target pages are sorted by Incoming Links. If you want to know which pages have the most links from unique websites, then sort by Linking Sites instead.
Sorting by Linking Sites will give you a little more insight since the links are from unique websites. Similarly, as before, clicking on a web page will let you see the top linking sites to that page and the number of backlinks for each.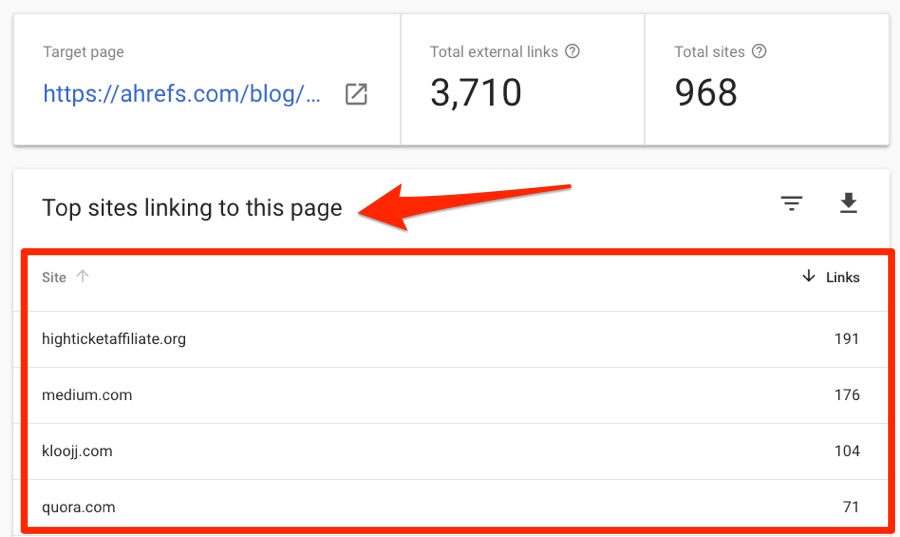 Source: ahrefs.com Top sites linking to a particular page
You can save and download any of these reports by clicking on the download Icon.
Google Search Console is great at giving you an idea of who is linking you, but reports are limited to the top 1000 pages. Moreover, there is no link context – you have no way of knowing the anchor text of a link and if it has attributes such as 'nofollow'. Lastly, there is no quality metric for top linking sites. By Top, Google does not refer to the quality of the websites but rank it based on the number of times they link you.
SE Ranking's Backlink Checker
SEO platforms can provide you more in-depth and unique insights on domain backlink profiles than GSC. For example, SE Ranking's backlink analysis tool provides details on various backlink parameters, offers grouping and filtering options, and tracks the most important links by moving them to Backlink Monitor.
To analyze backlinks in SE Ranking,
Go to the Backlink Checker tool from the top menu
Input any website you need information on (it can be a domain with or without subdomains, as well as a specific URL)
The Overview section will show you the following details:
The number of unique referring domains
The number of backlinks and their distribution by the linked page (homepage and others)
The number of anchors used in found backlinks
Statistics of nofollow and dofollow backlinks
The number of IPs and subnets that link out to an analyzed website
Domain Trust and Page Trust scores of the analyzed website (those are the authority metrics developed by SE Ranking that take into account the number and quality of backlinks and referring domains)
Below this data, you can find graphs that show the list of top anchors, distribution of ccTLDs, and the dynamics of newly acquired and lost backlinks and referring domains.
If you need more specific details, different sections of the tool will provide you with them. For example, the Backlinks section will show you
a full list of links
the dates they were first and last seen
the pages they lead to
Domain Trust, Page Trust, and Alexa rank of referring sources
anchor text
type of link (whether it comes from the text or image and if it contains the nofollow attribute value)
You can choose what columns to display, sort data by any column, and filter backlinks by any available parameter. This will help you quickly identify different segments of a backlink profile—for instance, if you sort the table by Domain Trust and set the dofollow filter, you'll see the most important backlinks of the domain.
Plus, all the information gathered by Backlink Checker can be exported in .csv or .xls format.
Ahrefs Site Explorer
As mentioned previously, Google Search Console is a good starting point, but it is limited in what it offers. Ahrefs is the world's largest index of live backlinks. It can determine the number of backlinks and referring domains for any website, subfolder, or web page. Here is how to do it:
Go to Site Explorer
Enter website/subfolder/webpage
Select mode > Overview

Source: ahrefs.com How to determine the number of backlinks + referring domains
As you can see, this gives you information about the number of backlinks and referring domains. This means that even if the domain is not your own, you can see information from your competitors.
Next, let us see how to check out how each website is linking to your chosen target. To do this,
Go to Site Explorer
Click on Referring Domains

Source: ahrefs.com Viewing the referring domains
Similar to Google Search Console, Ahrefs shows the linking websites and the number of backlinks from each. However, it also provides additional information such as:
Domain Rating (shown as DR)
NoFollowed vs "dofollowed" links
Estimated organic traffic for each linking domain
You can see a more extensive report of all backlinks by visiting the Backlinks Report. Just head to Site Explorer > Backlinks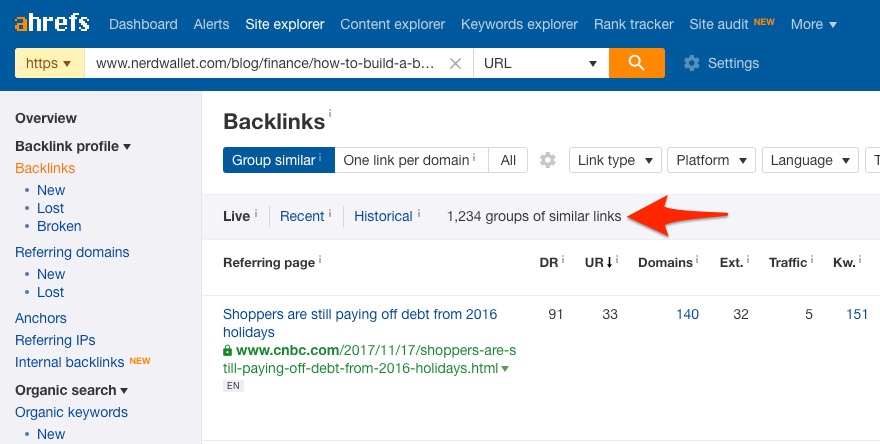 Source: Ahrefs.com Looking through the Backlinks report
For every backlink in this report, you can see the linking page, its anchor link text, target URL (the page to which the backlink points to) and other SEO metrics. Most importantly, this report only shows unique backlinks (groups similar to backlinks together).
How to Monitor New Backlinks & Prevent Negative SEO
It is important to keep track of your backlinks to prevent Negative SEO. Negative SEO is the action to try to negatively impact a website's search engine optimization. This act strives to decrease a competing website's optimization in the search rather than focus on their own website's optimization.
So why use Negative SEO?
The aim of Negative SEO is to cause a manual penalty or an algorithmic filter. Google is constantly updating its algorithms to penalize websites that use low quality, manipulative and spammy links. Anyone impacted by the Penguin, which was a spam-fighting algorithm included in Google's search engine algorithms, even faced over 10 months of not being able to recover. This essentially means that anyone impacted by Negative SEO can face devastating consequences.
Google claims that every update strengthens the protection against Negative SEO. However, many SEOs are dubious given their experience with Penguin and manual penalty recoveries.
So how can we prevent Negative SEO?
The best way to prevent Negative SEO is to monitor the backlinks of your website. We will be showing you a step-by-step process of how to do this:
Go to Ahrefs.com
Click on Site Explorer > Backlinks
On the top right corner, you should see an Export Button. Click on 'Export'. A CSV file will be downloaded
Open CSV File and take a look at First Seen/Last Seen specifically.
Exported CSV of Top Linked Sites
You should see a list of your latest indexed websites and the date of when it was last crawled and first seen.
Now let us review the data we have gathered. You will want to look at the 'First Seen' date. Make sure to look through the recent link list and see if you notice any periods of high link growth which are unnatural. Any unnatural patterns of links all found on the same date will mean that the number of new links pointing to your site is unnaturally high and could be the result of a Negative SEO attack.
Auditing Your Current Backlinks
To be able to audit your current backlinks, you need to apply the same approach as when monitoring new backlinks. This time we will be analyzing further your backlink profile.
1. Retrieve your list of Backlinks
Go to Ahrefs.com
Click on Site Explorer > Backlinks
On the top right corner, you should see an Export Button. Click on 'Export'. A CSV file will be downloaded
Open CSV File
2. Review your Backlink Profile List
Once you have the list in front of you, you need to evaluate the specifics of your links to identify the weaknesses and strengths of your backlink profile.
You consider the following attributes:
Identify the Domain Authority and Link Profile 
Domain Rating (DR) – is a 100-point scale that shows the strength of a referring web site's backlink profile compared to others in AhRef's database.
Referring domains – Presents the number of unique referring domains linking to the referring page at the time of the most current crawl.
Linked Domains – Presents the number of unique root domains linked from the referring page at the time of the most recent crawl.
Review the natural growth of your backlink profile
Ahrefs shows you a timeline graph of how your backlinks are performing. This is known as a Link Velocity. You can determine how your external and internal backlinks are performing throughout time. You can also determine the ratio of new links versus lost backlinks and the distribution of internal backlinks per day.
Source: Ahrefs.com Graphical timeline report for backlinks
If you see huge spikes this could be a case of unnatural growth or massive linking building campaigns. Those links should be studied in further detail. This can be done by determining which links are 'follow' and 'nofollow' which we will show you in our next section.
Compare dofollow links to nofollow links
If you do not have nofollow links or have too many of them, this should be a cause for concern. To find out which is the case, look at the column 'Type' from the spreadsheet you exported for your backlink profile. For each link, you will see if the link was NoFollow or DoFollow.
To make things clearer, create a pie chart from your spreadsheet to determine the ratios.
If you do not have nofollow links, this most likely means the links were acquired in an unnatural way and you need to perform further analysis to identify the spammy links.
On the other hand, if you have too many nofollow links, then you should opt to create a new strategy to generate dofollow links.
3. Identify your Unnatural Links
You can use a tool called Visual Link Explorer by CognitiveSEO to give you a visualization of how your site's link profile. The Visual Link Explorer gives you the opportunity to see your backlink profile as a whole and visually extrapolate it.
Each cluster has a page from your website at its center represented as a dot. Each dot connects other dots (blue dots) at the bottom which represents the backlinks for a specific page. The higher the distance from the centre point to the blue dots from the cluster, the higher the quality of the link. You can also click on the dots to view the link and see a snippet of text.
Apart from this, you can also use Unnatural navigator. This feature is useful for websites that are penalized by Google, to track your risk of being penalized, to identify negative SEO attacks and discover unnatural links.
To be able to use the feature, you first need to use Anchor Text Distribution. This tool allows you to spot out any suspicious anchor texts. Some anchor texts can have weird text that does not make any sense such as identity codes along with domain names. Anchor Text Distribution categories the anchor texts into 3: brand, commercial and miscellaneous. For each category, the tool grades them as OK, suspicious, or unnatural.
If you have a backlink profile with a percentage of 15%-20% of unnatural links, then you are most likely at risk.
Disavow unnatural links
So, you determined that you have unnatural links that you want to get rid of. The first step to do is to try and remove the links from the other site to your site. This is always the preferred procedure as disavowing links is an advanced feature, and if not performed well, can have harmful effects on your website.
However, if this is not possible, you should disavow the URLS of the unnatural links to your website. Leaving the links will have repercussions on your website's authority and ranking.
Additionally, it is important to note that you should only disavow if you have a 15%-20% of spammy or low-quality links (as mentioned in the previous section) and if links caused you penalization.
We prepared for you a simple guide on how to disavow links in Google Search Console.
Conclusion
Monitoring backlinks is extremely critical to maintaining your authority and credibility of your website. Using Google Search Console can help you keep track of your latest backlinks and referring domains. It is a great starting point because you can see detailed reports of who is linking you.
However, their reports are limited to 1000 backlinks and they also don't give any indication of the quality of the links. To better analyze and determine if your backlinks are unnatural or spammy, you should use tools like Ahrefs or CognitiveSEO. Google Search Console on the other hand is the best tool to disavow unnatural links.
FAQ
What is Google Search Console used for?
Google Search Console is used to monitor, keep track, and diagnose your site's ranking in Google search results. Basically, it is a portal to understanding how Google crawls your site.
What is a backlink?
Backlinks are links from another page that link to your website. If you a website has a link from your website, then you have a backlink from them.
What are unnatural links?
Unnatural links are artificial links that cause negative SEO. Their intent is to decrease a page's ranking. Unnatural links can be purchased links or links created by spammers. These spammers link your site to spammy or malicious links.
How can I disavow backlinks?
Using the Google Disavow Tool. Create a list of bad backlinks and then use the Disavow Tool from Google.
Veteran content writer with focus on Technology and SEO.