Why do you need Twitter feeds for your website? You will be surprised but embedding Twitter feeds on your website can help in many ways.
Twitter is a powerful social platform that enables your company to create an online presence, engage with users and gather followers. In this article, we describe how to improve your SEO for your website using Twitter. But what if your users stumble upon your website before your Twitter? How can you improve your Twitter presence from your website?
If your website embeds Twitter feeds, it will enable you to connect your social presence with your website. Twitter offers embedding functionality – some features include adding buttons and embedding timelines and tweets. The best thing is that visitors do not need to leave your site to see them. This way your website will stay up-to-date with your latest tweets and users can engage with your website easier.
Still not convinced you need this? Read the next section to understand what benefits you get when embedding Twitter feeds on your website.
The benefits of having a Twitter Feed on your website
Encourages engagement and extends time on your website site – If your website is consistently showing tweets from your Twitter account, it will most likely increase the amount of time a user stays on your website and their engagement. Since your tweets will be up to date, the user will be more intrigued to read the latest news from your company. The possibility of replying to your tweets from your website will also increase the engagement from your visitors.
Advertisement of your Twitter account without having to leave your website – Users may stumble upon your website from search engines or other social platforms. Due to this, not all visitors are aware of your Twitter profile. Being able to embed Twitter functionality in your website allows the user to discover your Twitter without the need to leave your website.
Turn website visitors into followers – Embedding your Twitter account into your website, will increase your chances of new followers. You are essentially creating a bridge between your Twitter and website, enabling visitors coming from other sources to potentially follow your Twitter account.
Adds social media proof and trust to your brand – Users tend to trust your brand more if you have a social presence. This is especially so if your brand has a large following and a verified account.
Ways To Add A Twitter Feed On Your Site – Using WordPress as a Content Management System
If you are making use of a Content Management System (CMS) like WordPress, its incredibly easy to create embedded tweets on your website. All you need to do is use a plugin or widget.
WordPress supports a number of plugins for your website or blog. I will show you a few of the best ones (Updated to 2021):
Smash Balloon
Smash Balloon Custom Twitter Feeds Pro is a great Twitter plugin for WordPress. It lets you embed your recent tweets in WordPress easily. It offers numerous layout options and allows customization to give you various methods to display tweets on your website.
Tweets can be added from your account and other public accounts, hashtags, or keywords. It even allows you to add a combination of multiple accounts and keywords to create smart Twitter feeds. This may be useful if you want to showcase which brands you support.
You can add your Twitter feeds using a simple block. You can also add Twitter feeds in parts of your website which are not part of content using their sidebar widget.
There is also a free version of Custom Twitter feeds with limited features to start with and get you up and running.
Twitter Raffle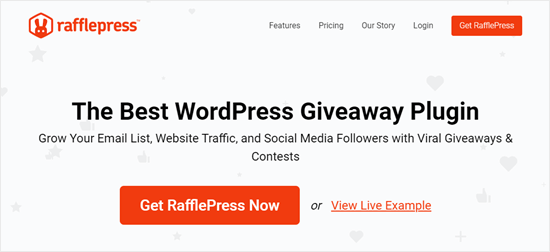 RafflePress boasts itself as the best WordPress giveaway plugin on the market – and with good reason. It allows you to create contests with prizes that in turn allow you to gather Twitter followers and increase engagement.
RafflePress offers a built-in marketing campaign template for Twitter. This means that you get to immediately launch contests that help you increase your Twitter engagement.
Moreover, it is amazingly easy to use, and its contest builder is a simple drag-and-drop action. All you need to do is add the actions you want to include in your contest and then embed it in your WordPress page.
Shared Counts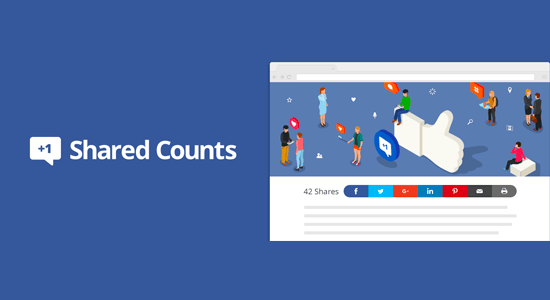 If you are looking for speed and quick execution without jeopardising features, Shared Counts is your best social sharing plugin for WordPress. It also allows you to display the total share count for each social media platform and the total share count for each article.
Shared Counts offers multiple button styles, and you can also choose where to display them. It is very easy to use and helps in adding social features to your website without compromising the website speed. If you want to read more about this, see here.
Social Welfare
Social Warfare is another commonly used plugin for WordPress to easily add Twitter buttons to your website. What is great is that it gives you the added control to monitor what people share on Twitter and how they share it.
Social Warfare enables the customization of your tweets by adding custom images and titles. You can add multiple button styles and positions which are designed to support mobile devices too.
It comes with a free version to get you started and a Pro Version that gives you access to more features.
How to Add a Custom Twitter Feed to WordPress – The Automated Way
I will use Smash Balloon Custom Twitter Feeds Pro to give you an example of how to add a Twitter feed to WordPress using a widget. However, the same steps can be done for any Twitter widget.
Install Custom Twitter Feeds Pro and activate the plugin on your WordPress website. Here is a step-by-step on how to install a WordPress plugin.
Connect your Twitter Account to WordPress. Go to your Twitter Feeds and find the Settings button. Click the blue-button to link your Twitter account. Then continue following the rest of the instructions.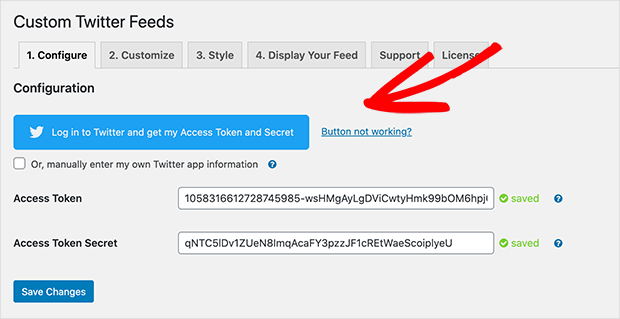 Next, you need to select the type of Twitter feed you want to display on your website. In the case of Custom Twitter Feeds, it contains 6 types of feed: User Timeline, Hashtag, Search, Home, Mentions timeline and Lists.
When you pick your custom Twitter feed type, you can also filter the number of tweets you want to be displayed and the frequency of update. Click on the Save Changes button.
Next step is to Style and Customize the Twitter feeds to pair with your site's theme and brand. To set up feed layout, navigate to Twitter Feeds >> Customize. From this section you can set your feed's width, height, and other custom CSS.  You then have the option to choose 3 different layouts: List, Carousel or Masonry. For further details on the layouts, see here.
In the next section, you will see how to filter/show the content in your Tweets. You can check and uncheck any attributes you want to show or hide from your content.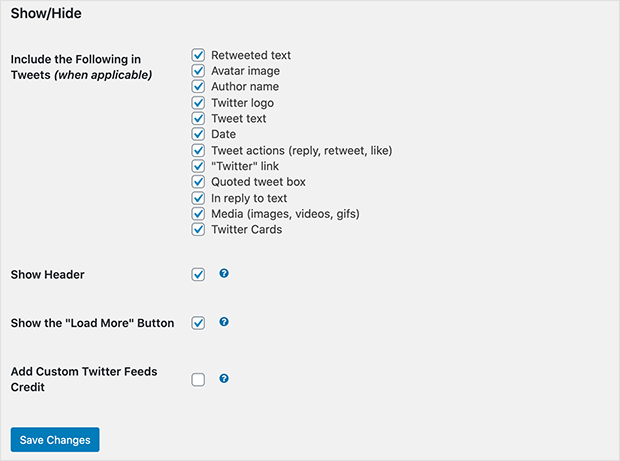 You can also hide your feed's header and add a Load More button to show your feed with fewer distractions.
Moreover, you can customize the amount of media displayed in tweets and auto-scrolling settings. An important section is the Moderation area. Here you can take control over specific words, phrases or hashtags in tweets and decide to show or hide them accordingly. This is especially important when you want to hide impertinent tweets that could damage your company's reputation.
Next section is called Misc – this section allows you to add custom CSS and Javascript code to help you style your feed further. Apart from this, it is also a great place to add metric tracking scripts like Google Analytics.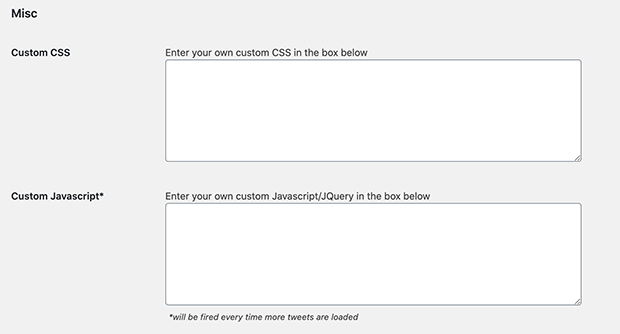 If you seek further control over your Twitter feeds, you can navigate to the Advanced section. In this section, you can clear cache for Twitter cards, auto-detect optimum image resolution and more.
Styling Twitter Feeds – To style the Twitter feeds, go to Twitter Feeds >> Style. In this page, you can customize the colour and font of the text and links in the feed. You can also change the feed backgrounds and buttons. You can also format the date and time displayed on the feeds. Once you are ready, click on Save Changes.
Embed Twitter feed in WordPress – You can display it in a post, Embed. To create a new page, navigate to Pages >> Add New or Posts >> Add New. Click the Plus (+) icon to add a new WordPress content block.  Next, type "feed" in the search box and click on Twitter Feed and add it to the editor. You will be presented with a preview of how your feed will look. Then Click Publish.
You can also Embed the Twitter feed in your sidebar widget. In that case, go to Appearance >> Widget from your WordPress admin area. Next, drag and drop the Custom Twitter Feed Widget to your widget area, for example, the primary sidebar.
How to Add a Custom Twitter Feed to WordPress – The Manual Way
If for some reason you need to embed a Twitter feed on your website manually without using a plugin, I will show you the steps you need to take. However, it goes without saying that doing this can present some drawbacks and it is best you are aware of them before proceeding:
Not as simple – You need to go through several steps and need to switch between different webpages. Alternatively, with plugins, you can do all the steps with a few clicks from your dashboard.
No Customization – When you embed tweets manually, there are no customization options to make it personalised to your company's website theme. This means you do not have control over the way they will look.
No filters –  Manual Twitter feed embeds will not contain any filters to display specific content. This will result in not being able to target certain audiences from tailored Twitter posts. Plugins will enable you to filter feeds by tags, search terms and combine feeds in one post.
Room for errors – You will be more susceptible to errors if you apply this manually. Errors such as misplacing parts of the code snippet, wrong links, or missing steps in the process. Plugins usually alert you if there are errors in your Twitter embed feeds.
Nevertheless, if you still wish to apply this manually, following are the steps needed:
1: Visit Twitter Publish

Visit Twitter Publish. This is the official Twitter website that lets you create HTML code for your different Twitter feed types. Add your Twitter URL link.
 2: Choose your embed type
Next, scroll down and select the embed type you want. I will be using the Embedded timeline option.
3: Copy Code

All you need to do is click Copy Code. Also, under the code, you will see a preview page with an overview of your chosen Twitter timeline.
4: Paste the code in WordPress
The last step is to paste the copied HTML into WordPress. To be able to embed HTML code in a WordPress post, you need to click on Posts >> Add New and then click the Plus (+) icon to add a new content block. In the options list, type in 'Custom HTML' as the new block.
One final tool to help with Twitter feeds on your website
Juicer is a social media aggregator that takes care of embedding Twitter content and appear in one feed. It contains a Twitter hashtag widget to easily extract your social media content by username or hashtag. You can also set up rules and filters to sift through unwanted content. Apart from this it also contains permalinks optimized for SEO for your social media posts, a responsive grid for dynamic layouts and customizations and infinite scroll functionality.
Moreover, Juicer automatically takes care of curating new information every so often. You can also set CSS customization to modify your embedded tweets to suit your brand.
It's very easy to embed a Twitter live feed. Here are the steps you need to take:
Start by signing up for the free Juicer account
Name your Juicer Feed and add your Twitter account by selecting 'Add Your Social Media Source'
Twitter will direct you to confirm your username and access permissions to your Twitter posts.
Once confirmed, Juicer will automatically populate all your Twitter activity to the Juicer dashboard.
Now all you need to do is embed Juicer WordPress plugin.
Conclusion
Adding Twitter feeds on your website has never been easier thanks to widgets/plugins that connect directly to your Twitter account. The ability to customize, control and filter your feeds as needed makes it a great tool to have. Embedding tweets will bring life to your website and increase your visitor's engagement and duration. It is time to take action.
Veteran content writer with focus on Technology and SEO.