We list the best Yext alternative solution that fits your business. Yext offers a powerful local citation solution for businesses. But Yext isn't the only service that can do this and there are a few that are worth mentioning.
We are living in unprecedented times full of uncertainty. This year saw a drastic rise in users asking questions related to brands. People want to know how brands are being affected and how they are coping with social distancing and closures. It's never been a better time to ensure that your brand is ready to answer their customer's questions.
Moreover, it's always important to know what your users are asking and provide them with the right answers. To understand this fully, let's take a look at what happens if answering your customer's questions is not considered.
What happens if you don't listen to your customers?
If you fail to listen to your customers, they will look at other places. Customers will remember the relevance of the answers they got when they required them. The more your answers are relevant and accurate, the more your consumers will trust your brand. Big companies like Verizon give their customers direct answers based on keywords they enter.
Edelman Trust found that 57% of their consumers will trust the brand more if they get their questions answered. The most important aspects that affect a user's trust are the treatment of their customers and how quickly it solves questions and customer service issues.
Therefore, giving customers the essential information they require is the solution to winning the consumer's trust. Moreover, trusting a brand means users are more likely to convert. So delivery of answers will maximize your company's ROI.
The best Yext Alternative – the solution that fits your business
Yext is a great tool that provides an easy and efficient setup for companies to post business information to directories automatically and their citations are published quickly. Their listings get approved fast and they offer an analytics dashboard to track your metrics.
However, Yext comes with a set of drawbacks. Their citations are only temporary. When you purchase a citation from Yext, they will last as long as you pay the monthly subscription fee. If you cancel the plan, your listings are all revoked and they may even be reverted. It's also more expensive than other citation management tools at around $500 per year.  Moreover, Yext does not offer any SEO help and you will need to have your own in-house SEO on your team.
Fortunately, many citation management tools provide a good alternative to Yext. Read on to the next section to find out which alternatives were found to be the best Yext alternatives.
Yext Alternative – Who are the competitors?
| | | |
| --- | --- | --- |
| Yext alternative | Website | Description |
| Chat meter | https://www.chatmeter.com/ | Take control of the conversation around your multi-location brand or agency with Chatmeter's all-in-one local SEO and business reputation management software. |
| Moz Local | https://moz.com/products/local | Moz Local is an automated citation management tool that continually updates its location data of partner directories. Allows bulk-uploads to different directories and actively improves your local SEO. |
| Bird Eye | https://birdeye.com | Birdeye uses Natural language processing to discover customer sentiments and improve SEO. It's a tool to monitor reviews and social channels in one place. They promote authentic reviews and drives more traffic to your business. |
I will go through each Yext Alternative in more detail in the next section.
Chat Meter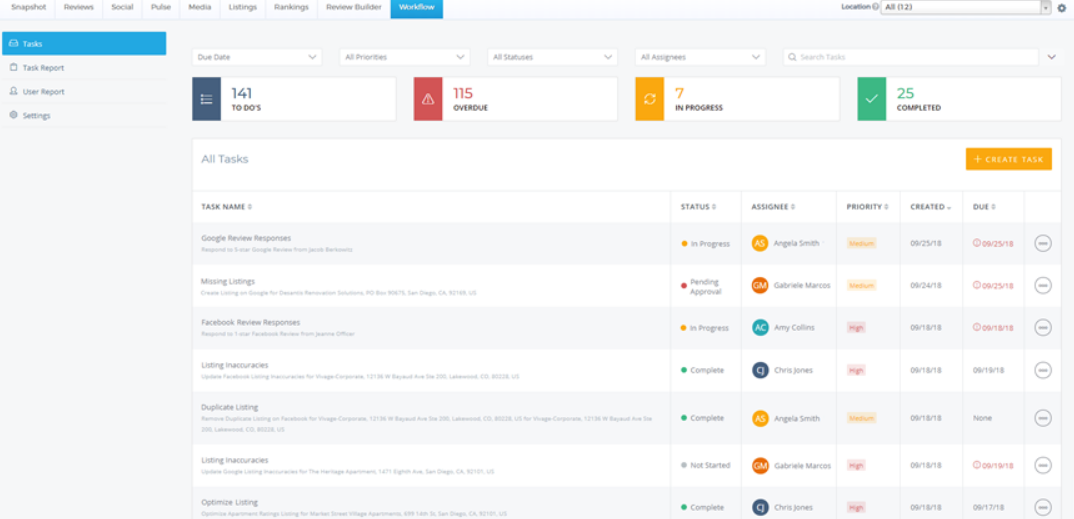 Chatmeter is a local brand management solution made for retailers that have multiple branches. It allows users to manage reviews, monitor competitors and manage social media channels under one reputation management platform.
Its platform is innovative and makes it easy to track comments, reviews and testimonials related to their business. The reviews and testimonials are extracted from the most popular review sites and social media.
Furthermore, it also allows users to immediately tackle issues raised by displeased customers. Conversely, Chatmeter also promotes the positive comments posted by happy customers to support a positive standpoint and help the business remain on top in rankings. Consequently, Chatmeter makes it effortless for businesses to gather new customers with wider visibility.
Price
Free trial / Quote Based Pricing
Benefits
The main benefits of Chatermeter are the following:
Incorporated Reviews Dashboard
Chatmeter contains a reviews dashboard containing data from reviews from several channels. The dashboard includes comprehensive details on reviews such as the source of the review, when it was posted, and by whom. This helps businesses quickly respond to reviews if need be.
It also provides notifications for every review posted, allowing businesses to react instantly. You can also use the review monitor to compare with other competitors and gain insights that may help your brand.
Social Media Mention Analytics
Businesses that have a social presence will find this feature handy. Every mention in social media will be analyzed and extracted. In this way, businesses can understand better what is being said in social media and utilize them to create a positive brand campaign.
Automated Testimonial Builder
Chatmeter automatically grabs the most positive reviews and testimonials from customers using natural language processing. It uses these reviews to send customizable SMS, email pages and even landing pages. It also allows businesses to send out requests from satisfied customers using surveys and drip campaigns.
Moz Local
Moz Local is a platform that offers a suite of research tools that help in marketing, link analysis and SEO. One of its main features includes local citation management. By simply providing your business information, Local Moz will automatically publish it to their partner networks. It also integrates nicely with social networks.
Moz local works best for a local business that have multiple locations. Since Moz Local contains an extensive package of SEO strategies, you can benefit from their solutions while integrating local citations.
One drawback it has is that like Yext, it will remove your listings from their platforms when you cancel their service. However, it costs half the price at around $129-299 per year per business location (however it can be more costly depending on how many addresses you have).
Price
$129-299 per year per business
Benefits
The main benefits of Moz Local are the following:
Extensive SEO Suite
Local Moz has a comprehensive set of research tools, SEO functionalities and tracking performance tools alongside the local citation management software. Since you have all the SEO functionalities under one suite gives you all the extra benefits to ensure your business will be in good hands.
Comprehensive Dashboard
The dashboard incorporates multiple features in one place. It offers weekly reports to understand how you are performing without being too intrusive. From a single dashboard, you can improve response times with their instant notifications of new reviews and analytical insights from major platforms. They also contain extensive citation sources according to your businesses category. Additionally, you also have profile completeness which indicates how well you are performing in review sites and social media. It helps you keep track if you are improving or not and gives an incentive to grow.
Duplication Deletion and Data Cleansing
They take duplication and accurate information seriously. These features ensure that your business local data is always up-to-date and synched in all partner sites. They also make sure that there is no duplication of data by complete deletion (rather than temporary suppression). They also allow a bulk-edit of information across all partners.
Bird Eye
Birdeye is a reputation management solution that focuses on helping businesses use their customer's feedback as a way of improving their marketing strategies. It extracts customer reviews and feedbacks from several sources. Such sources include review sites, surveys and social media platforms to be able to make a smarter decision in marketing campaigns.
The software aims to allow you to get new customers faster, acquire more positive reviews and ratings. Birdeye contains a suite of tools all focused on customer loyalty improvement. Some of their features include review management, monitoring and review marketing. They also focus on setting an online presence, business insights and more. Moreover, you can integrate your solution with CMS, CRM and other accounting solutions.
Price
Free Trial/ Quote based Pricing
Benefits
The main benefits of BirdEye are the following:
Integration capabilities
What's great about BirdEye is that it can be used through various integrations making it easy to use with platforms you are already familiar with. Integration with CRM, CRM and accounting solutions makes it a great solution for businesses.
Real-time engagements
The dashboard displays feedbacks in real-time from over 250 sites. You are also instantly notified through SMS or email every time a new review about your business is posted online. These alerts can also be filtered by rating and source if you want to avoid being overloaded with alerts. These features help to engage with your customers in real-time more effectively.
SEO optimized
Your SEO and online presence can be improved because the reviews generated by the system are indexed by major search engines. Listings can also be amplified by the integration of multimedia such as videos, photos, menus and more to make it more dynamic. This helps your business stand out from others by improving your click-through rate and conversions.
Conclusion
According to the 2019 Edelman Trust Barometer Special report, 81% of consumers say that being able to trust a company is a major consideration when purchasing from brands. Moreover, in a follow-up study about brand trust and coronavirus pandemic, 71% of the respondents said that brands that put more focus on making a profit than their customers will lose their trust for good.
Trust is essential because it not only gets you customers that remain loyal, but it also has a direct relation to the company's revenue success. Besides, a company that meets their customer's expectations and listens to their critiques has a higher chance of improved customer loyalty, higher chances of repurchasing, more referrals and better reliability.
That is why it is so important to use a local citation management system to easily keep track of your customers feedback. This way you can use it to your advantage to create powerful marketing strategies and ensure customer satisfaction. No matter which Yext alternative you choose, it's never been more vital to ensure trust for your company.
Veteran content writer with focus on Technology and SEO.